Brain Injury Attorney in Hollywood, Florida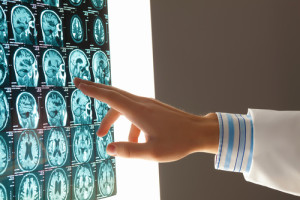 Many brain injuries are caused by accidents, blunt trauma or violence; however, some brain injuries are the direct result of doctor negligence and medical malpractice. Failure to timely diagnose a patient with low oxygen saturation rates, for example, will often lead to unnecessary and often times, irreversible brain injury. The trauma is horrible and it just takes a matter of a few minutes to dramatically alter a loved one and their families' lives forever.
Traumatic Brain Injury Lawyer in Hollywood, FL
Not only can medical mistakes cause brain injury, negligent medical care can exacerbate an already existing brain injury. If a brain injury is not properly diagnosed and treated by a doctor, nurse or hospital staff, an individual may suffer serious complications leading to severe mental impairment, stroke, paralysis and even wrongful death.
If you or a loved one has suffered a brain injury because of health care negligence, you may be facing a lifetime of uncertainty in addition to costly medical bills. Rosen & Ohr, P.A. can help you secure compensation to ease the financial burden of your injury. Call Rosen & Ohr, P.A. today at (954) 981-1852, or contact us online for a free evaluation of your case. With more than 45 years of combined legal experience, our law firm represents accident victims in all areas of South Florida, including, but not limited to Ft. Lauderdale, Hollywood, Pembroke Pines, Aventura, Hallandale, North Miami Beach, Miami, Sunny Isles, Cooper City, Dania Beach, Broward County, Dade County, and Palm Beach County.
Individuals might suffer a brain injury due to a surgeon or doctor error in cases involving:
Undiagnosed Blood Clots
A significant cause of brain injury is blood clots that develop during surgery and pre-operative surgical procedures. Doctors, nurses and other hospital staff must diligently monitor for blood clots that might travel to the lung or brain where they can cause serious disability and death. > More about Medical Malpractice and Wrongful Death
Anesthesia
Surgeons, nurses, nurse anesthetists, anesthesiologists and other doctors must be properly experienced and certified to administer anesthesia. Improper administration of anesthesia can lead to significant brain injury, stroke, coma and even death due to the deprivation of oxygen. > More about Anesthesia Errors and Wrongful Death
Surgical Error
Many surgical mistakes can be traced to poor pre-operative care and planning. A doctor must thoroughly analyze a patient's medical history, medication and lifestyle choices prior to determining what surgical course, if any, should be taken. A surgeon must make sure that the procedure is as safe as possible by extensively monitoring his surgical team. In short, the surgeon and his or her team must be experienced and competent enough to mitigate any unnecessary risk of surgical error. > More about Surgical Errors
Brain injuries are commonly misdiagnosed in the fast-paced, stressful setting of an emergency room. Common claims of emergency room error include:
Failure to order tests
Failure to check on a patient after discharge
Improper discharge
Misreading test results
Surgical or trauma error
Infant Delivery Error
Delivery complications caused by doctor and staff negligence can result in a significant decrease in oxygen to a newborn or fetus's brain. A loss or decrease in oxygen can cause cerebral hypoxia, cerebral palsy and significant impairments in motor and sensory functions. > More about Birth Injury
Medication Error
There are times when a patient can be given too much conscious sedation medication which can further slow respiratory rates and lead to brain injury. > More about Medication Errors
Failure to Intubate
In the event a patient is having respiratory distress, the use of a ventilator machine to assist a patient in their breathing can often quickly reduce the potential for loss of oxygen and resulting brain injury. While failure to timely intubate, can be a deviation from the prevailing professional standard of care and wind up causing preventable brain injury. > More about Medical Malpractice
Failure to Diagnose
If a patient's oxygen saturation rates are not carefully monitored in certain treatment scenarios, the potential for catastrophic brain injury is almost imminent. It is crucial that a patient's oxygen and respiratory rates be monitored carefully in certain cases, failure to do so could result in failing to properly treat or intubate a patient, leaving him or her with severe brain injury. > More about Medical Malpractice
Diagnostic and treatment errors can result in brain injury or the further exacerbation of a pre-existing brain injury. A brain injury as a result of a doctor's negligence may lead to speech impairment, paralysis, stroke, heart attack, psychological and behavioral disorders, cerebral hypoxia, cerebral palsy, sensory and motor impairment, persistent vegetative state and/or death. Brain injuries are often permanent, debilitating problems. While litigation certainly will not treat an injury, it can provide lifelong financial stability for the victims of brain injury medical malpractice.
Contact a Hollywood, Florida Brain Injury Attorney Now for Help
If you or a loved one has been the victim of brain injury-related medical malpractice in South Florida, you may be entitled to damages including medical expenses, lost wages and other compensation. Contact our brain injury law firm today (954) 981-1852 for a free consultation, or contact us online. Our primary focus is serving our clients. We believe that if we focus on providing excellent and thorough representation and service, everything else will take care of itself. The Hollywood personal injury lawyers at our medical malpractice law firm work on a contingency fee basis, which means we will not receive a fee unless you receive monetary compensation. The Statute of Limitations may be running on your medical malpractice claim, so time is of the essence.
Relevant Personal Injury Links: