Spine Injury Lawyers in Hollywood, FL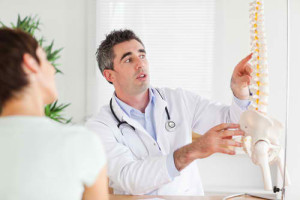 Spinal Cord Injury Attorneys in Hollywood, Florida
Approximately 12,500 new spinal cord injuries occur every year, as reported by the National Spinal Cord Injury Statistical Center (NSCISC). The estimated number of people in the U.S. living with spinal cord injury in 2014 was 276,000.
Whether caused by a car crash, fall, or another type of accident, spinal injuries are life-changing for the victim, and bring a lifetime of medical treatment and other related expenses. If you or your loved one has suffered a spinal injury as the result of an act of negligence, it is important to consult with a South Florida personal injury lawyer who will actively pursue full compensation for the losses you have suffered.
At Rosen & Ohr, P.A., we help spinal injury victims in Fort Lauderdale, Hollywood, and throughout South Florida to seek every form of compensation necessary for their future.
What is a Spinal Cord Injury?
According to the Mayo Clinic, spinal cord injury occurs when there is damage to the spinal cord or to the nerves at the end of the spinal canal. This damage often results in the loss of strength, mobility, and sensation below the point of injury.
Depending on the severity, the injury to the spinal cord can lead to permanent paralysis, and affect a person's ability to control the limbs and all other bodily functions below the level of impact.
What Causes Back Injuries & Spinal Cord Injuries?
As reported by NSCISC, motor vehicle accidents are the leading cause of spinal cord injury, followed by falls, acts of violence, and sports. Most acts of violence that cause spinal injuries involve gunshot wounds. The primary causes of spinal injury break down to the following percentages:
Vehicle collisions (38%)
Falls (30%)
Violence (14%)
Sports (9%)
Other causes (9%)
Workplace accidents can lead to spinal cord injuries, particularly in the construction industry. Workers may suffer debilitating injuries to the spine when they fall from scaffolding or ladders, or when they are injured by equipment.
Types of Spinal Injuries: Back Injury Lawyers Hollywood, FL
Spinal cord injuries are classified according to the severity and the location of the injury, as described by the Mayo Clinic. An injury can be complete or incomplete. When all or almost all sensation and motor function are lost below the level of the injury, it is complete. If there is some remaining sensory perception and mobility, the injury is incomplete, and there are varying degrees of incomplete spinal cord injuries.
The location of the injury determines how much of the body and what functions are affected.
Tetraplegia, also known as quadriplegia, results from severe injuries higher on the spinal column and affects the arms, hands, trunk, legs, and pelvic organs.
Paraplegia is caused by injuries lower on the spine. It involves paralysis of the legs and pelvic organs and all or part of the trunk.
Our Spine Injury Lawyers are Ready to Help
At Rosen & Ohr, P.A., we provide representation that combines experience and innovation for spinal cord injury victims in South Florida.
Attorney Jerrad Ohr has won multi-million dollar results for our clients, and he is one of the youngest lawyers in the state of Florida to obtain membership in the Multi-Million Dollar Advocates Forum®.
Attorney Ronald Rosen also holds membership in the Multi-Million Dollar Advocates Forum®, and he is a former judge and prosecutor with more than 45 years of experience practicing law. Mr. Rosen has been certified as an Expert in Civil Trial Law by the Florida Bar and has a Martindale-Hubbell® AV Preeminent® Rating.
Contact Our Spinal Cord Injury Lawyers in Hollywood, FL Now
When you work with our firm, we treat you as our most important client, with compassion and courtesy, and keep you fully informed about the status of your case. You will never be shuffled to a junior associate, as we are fully focused on your case from start to finish. We work as a team, to give you the benefit of our experience and innovation. We are zealous advocates and problem solvers and never give up the fight for our clients.
If you have suffered serious spinal injuries, you will need to recover full and fair compensation to cover your medical expenses, rehabilitation expenses, lost earnings, the cost of modifications to your home and vehicle, and other economic losses. You also deserve compensation for your non-economic losses, such as pain and suffering and loss of enjoyment of life. We offer a free case evaluation.
Contact our office to speak with a South Florida personal injury lawyer about your claim.
Sources: