Hollywood Florida Work Injury Lawyer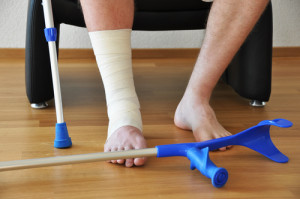 Hollywood Florida Work Injury Lawyer
The United States workforce includes more than 105 million people. Every year, more than six million of these workers get injured and 6,023 more lose their lives on the job, according to the National Safety Council. The estimated cost is in the billions of dollars.
More than 245,000 injuries and illnesses were reported by Florida employers in 2002, according to a joint federal and state survey. Industries involving wholesale, retail trade and services experienced the greatest number of incidents, with 32 percent of the total reported cases. Accidents in the construction and manufacturing industries together ranked second with 10 percent each of the total cases.
Workers in the agriculture, farming and fishing industries had the highest incidence rate, with 7.4 injuries and illnesses reported per 100 workers. The industries with the lowest incidence rate was finance, insurance and real estate.
Employers are required to provide a reasonably safe workplace. This includes safe equipment, proper training, posting of warnings, and compliance with safety regulations. Rosen & Ohr, P.A. has observed patterns in accidents at work, and we understand how to document injuries and workplace accidents.
Are All Workplace Injuries Covered in Florida?
Most Common Workers' Compensation Claims
Among the most common causes of serious work injuries are accidents involving falling objects, workers falling from elevated equipment or structures, highway accidents and those involving cars, trucks, forklifts, factory machinery and other devices. Other causes of workplace injury include electrocution and carbon monoxide poisoning. Our workplace lawyers help employees with claims and lawsuits, including those whose injuries involve:
Repetitive stress, back strain and other ergonomically based injuries
Equipment malfunctions
Lifting injuries and needle sticks in hospital or nursing home jobs
Injuries traveling to work
Workers' Compensation Settlement Amount
Many times a workplace injury is the result of the negligence of someone unconnected with the employer, such as the manufacturer of equipment. In those types of cases, a separate civil suit can be brought against that person of company for both economic and non-economic damages. This is called a third-party action. Your employer cannot be subject to a civil suit — anything with the employer must be handled through the workers' compensation process.
If you successfully recover damages for someone besides your employer, however, your employer's insurance company may seek reimbursement for the sums expended on your behalf for disability payments and medical care. This is called a lien.
The employer's insurance company has to reduce their request for reimbursement to reflect the employer's fault. They may also get a credit against future payments for medical care, requiring you to first expend all of the monies you recovered in the third party suit, before they pay any additional medical bills. Rosen & Ohr, P.A. will work with you to reduce or remove any lien that may exist on your case.
The amount of compensation paid to an employee depends upon the classification of his or her disability:
Permanent total disability: 66 2/3 percent of the employee's average weekly wage.
Temporary total disability: 66 2/3 percent of the employee's average weekly wage, up to 104 weeks.
Permanent impairment benefits: 75 percent of the employee's average weekly temporary total disability; impairment benefits are reduced by 50 percent for each week the employee earns income equal to or more than his or her average weekly wage.
Temporary partial disability: 80 percent of the difference between 80 percent of the employee's average weekly wage and the wage the employee is able to earn after being injured, up to 66 2/3 percent of the employee's average weekly wage at the time of the accident.
If you or someone you know was seriously hurt on the job, please contact our South Florida workplace injury law firm for a free evaluation of your case.
Whether or not there is a defendant other than the employer in your case, it is important that you have your case reviewed by an experienced accident law firm. Contact Rosen & Ohr, P.A. today for a free consultation. We represent accident victims in all areas of South Florida, including, but not limited to Ft. Lauderdale, Hollywood, Pembroke Pines, Aventura, Hallandale, North Miami Beach, Miami, Sunny Isles, Cooper City, Dania Beach, Broward County, Dade County, and Palm Beach County.