Motorcycle Accident Attorney in Hollywood, FL
When you are coping with serious pain after a motorcycle accident, the last thing you want to worry about is trying to prove the extent of your injuries to an insurance company. At Rosen & Ohr, P.A., our skilled motorcycle accident lawyers in Hollywood, Florida, have a strong track record of fighting for the rights of crash victims.
Our Florida Motorcycle Accident Lawyers Can Help By:

Providing clients with the one-on-one attention they deserve.
One client noted: "I did not want my case to be one of a grouping of 1,000 cases … I wanted a smaller firm that could really focus on me and my needs. I have never regretted choosing a 'personal attorney,' and have always been treated with great compassion and expertise by
Mr. Rosen
and
Mr. Ohr
's office."


Negotiating aggressively for maximum compensation. "The insurance company only wanted to pay me $15,000 to settle my case," one client explained. "I've never been in an auto accident or been involved in anything like this before. Mr. Rosen and Mr. Ohr guided me every step of the way and helped comfort me. They were able to settle my case for the entire $100,000.00 policy limits within just months of filing a lawsuit and prior to my case being scheduled for trial."

Achieving success both in settlements and verdicts. Attorneys Ronald Rosen and Jerrad Ohr are both honored to have been named as lifetime members of the Multi-Million Dollar Advocates Forum, which includes less than 1 percent of attorneys across the United States.
Motorcycle Accident Attorneys in Hollywood Florida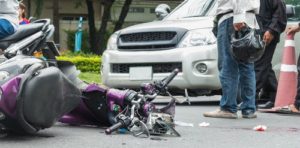 Every case we handle is unique. That's why we take the time to sit down with each client and discuss the details of your accident.
Contact our experienced motorcycle accident attorneys today at Rosen & Ohr, P.A. to schedule a free case consultation, and learn how we will put our knowledge to work for you.
What Is P.I.P. for Motorcyclists?