Common Causes of Motorcycle Accidents in Hollywood FL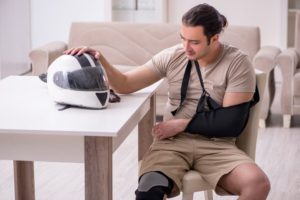 While motorcycles make up just 3% of registered motor vehicles in Florida, according to a National Highway Traffic Safety Administration (NHTSA) report, they account for a disproportionate share of accidents, severe injuries, and deaths.
While motorcyclists are often unfairly painted as reckless, law-breaking rebels – thanks in large part to portrayals on TV, in movies, and other popular culture – the majority of riders are ordinary people who simply enjoy the thrill of the ride.
In many instances, motorcycle collisions are the result of negligence on the part of other motorists. All too often, other drivers fail to watch for motorcyclists, fail to leave adequate space between vehicles, drive aggressively, or otherwise fail to exercise adequate care and caution.
If you've been injured in a motorcycle accident in Florida, the Hollywood motorcycle accident lawyers at Rosen & Ohr can help you fight for fair compensation. We've handled personal injury claims in Florida for more than 45 years, and we've helped our clients recover millions of dollars.
Get a free initial consultation with one of our attorneys by calling us or visiting our contact page.
Most Common Causes of Motorcycle Accidents in Hollywood, FL
Some of the most common causes of motorcycle accidents in Hollywood, Florida, include:
Left-Hand Turns in Front of Oncoming Motorcycles – The smaller size of motorcycles compared to other vehicles can make them more difficult to see, especially if other drivers aren't paying attention. A distracted driver might not notice a motorcycle heading toward them as they turn through the intersection, resulting in a head-on, T-bone, or sideswipe collision. These accidents can also happen if a driver improperly judges the distance between their vehicle and the motorcycle before making a turn.
Failure to Yield Right-of-Way – While motorcycles have the same rights as any other vehicle on the road, not all drivers properly yield the right-of-way to motorcycles as required by traffic laws. A typical example of this is when drivers turn in front of an oncoming motorcycle when the motorcyclist has the right-of-way. Another example is when a driver side-swipes a motorcyclist when turning or changing lanes.
Drivers Not Sharing the Road – Many motorcycle accidents are caused by a lack of respect from the drivers around them, putting motorcyclists in dangerous situations. One typical example is failing to exercise caution when passing motorcyclists. If drivers aren't careful, they may sideswipe a motorcyclist or get so close that they cause the motorcyclist to lose control.
Rear-End Collisions – If someone behind a motorcyclist isn't paying attention or is following too closely, they may strike the motorcyclist from behind. Rear-end collisions are dangerous because they often happen with little to no warning for the motorcyclist, so they can't prepare for the impact.
Speeding – Speeding contributes to a large number of motorcycle accidents in Florida in two ways. First, speeding drivers have less margin of error in their maneuvers and are more susceptible to losing control. Both of these factors make it more likely that a speeding driver will collide with a motorcyclist or other vehicle. Secondly, cars exert more force in a crash the faster they're moving before impact. This increased impact force puts more strain on accident victims' bodies and makes it more likely that they'll sustain severe injuries.
Driving Under the Influence – Drivers who are impaired by alcohol, prescription medications, over-the-counter medicine, or illegal drugs have slowed reflexes and diminished cognition. This makes them more prone to mistakes and more likely to engage in risky behavior. All of these factors make it much more likely that an impaired driver will cause a motorcycle accident.
Distracted Driving – Distractions such as food and drinks in the car, music, loud conversations, and cellphones can all make it harder for drivers to avoid an accident. They take a driver's hands off the wheel and their eyes off the road, as well as disrupting their concentration on the act of driving. It's no wonder that distracted driving is one of the most common causes of motorcycle accidents in Florida.
Dooring Accidents – It's the responsibility of drivers and passengers to be wary when opening their doors to make sure they don't put motorcyclists in danger. But many people don't take the time to check for a motorcyclist before opening their doors on a vehicle that is parked curbside. This can cause a motorcyclist to strike a door or swerve to avoid hitting it, leading to a crash.
Dangerous Road Conditions – Rain, wind, fog, potholes, and gravel on the roads all put motorcyclists at risk because they have a harder time staying upright than four-wheeled vehicles. Spilled gravel from dump trucks or at areas like construction sites can cause a motorcyclist to lose control.
Florida Motorcycle Accident Statistics
Here are a few key data points about motorcycle accidents in Florida:
What do the stats say? There were 8,903 motorcycle accidents statewide in one recent year, according to data from the Florida Department of Highway Safety and Motor Vehicles, resulting in 551 fatalities and 7,725 injuries. That compares with 9,143 motorcycle accidents, 531 deaths, and 7,849 injuries the previous year. According to a report from NHTSA, motorcycles account for less than 1% of all traffic on the roads but represented 19% of all fatalities and 12% of all serious injuries from traffic accidents during the five years before the report's release.
Why is Florida more dangerous? Florida's comparatively lax helmet laws may be partially to blame for the high number of injuries and fatalities from motorcycle accidents. One study found a 48.6% increase in motorcycle accident fatalities the year after Florida weakened its helmet requirements for motorcyclists. Another factor may be the rise in distracted driving accidents in recent years as internet-connected smartphones have become ubiquitous. Due to the state's warm climate and many attractions, Florida hosts more bikers than many other states.
Contact an Experienced Motorcycle Accident Attorney in Hollywood, FL, Today
If you've been hurt in a motorcycle accident in Hollywood, Florida, the motorcycle accident lawyers at Rosen & Ohr want to hear from you. We understand the unique challenges motorcycle riders face, and we're ready to discuss the details of your case during a free consultation.
To learn more about how we can help you, call our office in Hollywood or reach out to us online.