Types of Spinal Cord Injuries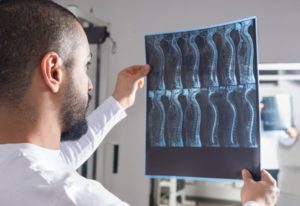 The spinal cord is a delicate bundle of nerves and cells encased in a column of vertebrae that make up the spinal column. When this complex structure is subjected to force, pressure, a blow, or another form of trauma in an accident, the vertebrae can shatter, and the spinal cord can be severely and permanently damaged.
A spinal cord injury can leave you struggling with severe physical pain, the loss of bodily function, and emotional anguish. In addition, the cost of medical care for a spinal cord injury is staggering. Spinal cord injury victims may continue to face substantial medical expenses for the rest of their lives.
If you suffered a spinal cord injury due to someone else's negligence, the attorneys of Rosen & Ohr, P.A., want to help you hold them accountable and seek compensation for your losses. You need to focus on your recovery and meeting the challenges ahead, so you can move forward with your life. Our award-winning attorneys can shoulder the burden of a complex legal claim while keeping you informed of every development.
We care about our clients, and we have the skills and drive to secure the best possible outcome in your case. Let us help. Contact us today for a free case review to learn more about your legal options.
What Are the Different Types of Spinal Cord Injuries?
Healthcare professionals recognize two main types of spinal cord injuries: complete and incomplete. These classifications refer to the different effects a spinal cord injury has on a person's ability to move and experience sensations.
Complete spinal cord injuries occur when the spinal cord is severed or compressed to the point that the brain can no longer send signals below the injury site. People who suffer complete spinal cord injuries lack both sensation and movement beneath the point of the spinal cord injury. Data from the American Association of Neurological Surgeons suggest nearly half of all spinal cord injuries are complete.
People with incomplete spinal cord injuries retain at least some sensation, some movement, or both, below the injury site. In some cases, one side of the body may have more functionality than the other. Incomplete spinal cord injuries can initially present as complete due to swelling around the injury site that typically subsides after seven to 10 days.
Levels of Spinal Cord Injuries
The location of a spinal cord injury along a person's spinal column directly impacts which body parts are affected. The higher the level of a particular spinal cord injury, the more extensive the resulting loss of function.
Spinal cord injuries are typically grouped into the four following levels:
Cervical spinal cord injuries – The cervical spine runs from just below the brain through the neck. Damage to this spinal cord section can cause paralysis in the arms, abdomen, and legs. In severe cases, patients may lose the ability to control their bowel functions, cough, or even breathe independently.
Thoracic spinal cord injuries – The thoracic spine begins in the lower neck and ends at the top of the lower back. Thoracic spinal cord injuries often leave patients with paralysis in the abdomen and legs, though upper-body movement typically remains normal. Lower thoracic spinal cord injuries sometimes lead to loss of voluntary bowel or bladder control.
Lumbar spinal cord injuries – The lumbar region of the spine is a small section of the lower back. Lumbar spinal cord injuries typically result in loss of function throughout the hips and legs. Patients commonly require wheelchairs but may be able to walk with the assistance of braces.
Sacral spinal cord injuries – The sacral spine consists of five fused vertebrae that form the sacrum, a bony structure at the base of the spine. Sacral spinal cord injuries affect the hips, thighs, buttocks, and pelvic organs. Many individuals with sacral spinal cord injuries can learn to walk again after the injury.
What Are the Symptoms of a Spinal Cord Injury?
Spinal cord injury symptoms depend heavily on the severity, type, and location of the injury. However, many spinal cord injuries have the following symptoms in common:
Severe back pain
Unnaturally positioned neck or back
Pressure in the neck, head, or back
Weakness or loss of coordination
Numbness or tingling sensations
Difficulties with walking and balance
Loss of motor function
Loss of sensation or altered sensation
Loss of bladder or bowel control
Spasms or exaggerated reflexes
Altered sexual function, sensitivity, or fertility
Stinging or intense nerve pain
Difficulty breathing or inability to breathe
Difficulty coughing or inability to cough
Spinal Cord Injury Statistics in Hollywood, FL
Spinal cord injuries occur in Hollywood, FL, for a variety of reasons. According to data from the National Spinal Cord Injury Statistical Center:
Spinal cord injuries affect roughly 54 people for every 1 million people in the U.S.
There are approximately 17,900 new spinal cord injury cases every year.
Between 252,000 and 373,000 people are currently living with spinal cord injuries.
The average age at the time of injury is 43, and about 78 percent of new spinal cord injury cases have been male.
The leading causes of spinal cord injuries include motor vehicle crashes (38.2 percent), falls (32.3 percent), and acts of violence (14.3 percent).
Approximately 30 percent of spinal cord injury patients are re-hospitalized one or more times per year after the initial injury.
The most common causes of rehospitalization among spinal cord injury patients include genitourinary diseases and skin diseases.
Spinal Cord Injury Treatment, Rehabilitation, and Improvement
There's no way to undo serious trauma to the spinal cord, but healthcare professionals may recommend the following types of treatment to improve function and prevent further injury:
Surgery – Surgical treatment may be needed to remove bone fragments, herniated discs, or foreign objects exerting pressure on the spinal cord. Surgery can also help stabilize the spine to prevent pain or spinal disfigurement.
Bed rest – Bed rest is an essential part of promoting the body's ability to heal. Doctors may recommend special beds to immobilize the spine and avoid further damage to the spinal cord.
Traction – While the patient is immobilized, the doctor may use traction to help relieve pain. Traction is a force that comes from therapeutic weights or pulleys used to stretch and realign the spine after a spinal cord injury.
Physical therapy – Physical therapists can help spinal cord injury patients maintain and improve muscle function, rebuild fine motor control, and discover adaptive methods for managing daily tasks.
Contact Our Spinal Cord Injury Lawyers in Hollywood, FL Today
A spinal cord injury can affect your ability to work, care for yourself, and enjoy your usual quality of life. At Rosen & Ohr, P.A., we have more than 50 years of experience serving Hollywood injury victims. We know how to hold negligent parties liable.
If you need compensation to recover from your Hollywood spinal cord injury, contact us today to discuss the details of your claim in a free initial consultation.