Emergency Room Errors Medical Malpractice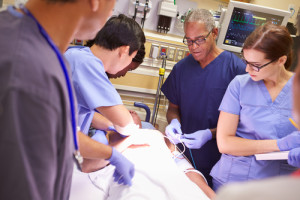 Emergency room doctors, nurses, and staff are faced with the daunting task of rapidly admitting, diagnosing, and treating patients — often within minutes of their arrival in a high-stress environment. Even under those demanding conditions, emergency room doctors must still provide experienced, competent, and professional medical care and attention. But the unfortunate reality is that many emergency rooms are understaffed, and overworked health care providers make mistakes at critical moments or fail to render treatment in a timely manner. In fact, emergency room negligence, errors, and substandard care are extremely common occurrences and can result in serious and permanent life-long disability, injury, and even death.
Emergency Room Malpractice in Hollywood, Florida
If you or a loved one has been injured by an emergency room error, contact an emergency room attorney by calling Rosen & Ohr, P.A. today at (954) 981-1852 or contact us online for a free evaluation of your case. With more than 45 years of combined legal experience, our South Florida medical malpractice law firm knows how to present your claim to achieve the best possible settlement. Our primary focus is serving our clients. We believe that if we focus on providing excellent and thorough representation and service, everything else will take care of itself.
Previously located in Hollywood, FL, and now located in Fort Lauderdale, FL, Rosen & Ohr, P.A. represents accident victims in all areas of South Florida, including, but not limited to Hollywood, Pembroke Pines, Aventura, Hallandale, Ft. Lauderdale, North Miami Beach, Miami, Sunny Isles, Cooper City, Dania Beach, Broward County, Dade County, and Palm Beach County. We have successfully represented patients injured due to medical negligence and will aggressively fight for you.
Common claims of emergency room error include the failure to properly diagnosis diseases or medical conditions, the failure to order tests, and the failure to check on a patient after discharge. Other mistakes include improperly discharging a patient, misreading x-rays or misinterpreting test results, and making surgical errors.
Unfortunately, some of the most common injuries requiring emergency attention are also the most commonly misdiagnosed. These include:
Appendicitis
Heart disease, including acute myocardial infarction (heart attack) or other cardiac condition
Stroke
Sepsis
Ruptured spleen
Meningitis
Compound or open fractures
Brain injury
Spinal injury
Internal hemorrhaging or bleeding
While emergency room doctors treat numerous patients under stressful conditions, that does not diminish their responsibility to make sure that each and every patient receives proper and competent medical care. If a doctor fails to provide proper emergency care, he or she is liable for the resulting injury or wrongful death.
Contact Emergency Room Malpractice Attorneys at Rosen & Ohr Today!
If you or a loved one has been the victim of emergency room medical malpractice, you may be entitled to damages that include medical expenses, lost wages, and other compensation. Contact our legal team today for a free consultation. We work on a contingency fee basis, which means we will not receive a fee unless you receive monetary compensation. The statute of limitations may be running on your medical malpractice claim, so time is of the essence. Contact a South Florida ER error attorney by calling Rosen & Ohr, P.A. today at (954) 981-1852 or contact us online to discuss your legal options with an experienced medical malpractice lawyer.
Relevant Medical Malpractice Links: