Oil Spill Resources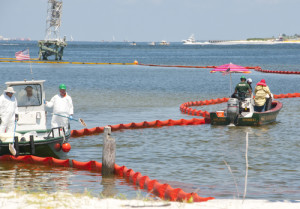 Landfall Predictions
Projections from NOAA indicate weathered oil from the leading edge of the Deepwater Horizon oil spill could impact the Florida Panhandle, the keys and the east coast. We can eventually expect to see tar balls, oil sheen, tar mats or mousse, a pudding-like oil/water mixture that could be brown, rust or orange in color washing up all over Florida's shoreline.
The National Oceanic and Atmospheric Administration is tracking the oil spill's movement. For an update, visit the NOAA website.
If you spot oil on Florida's coastline report it to the State Warning Point at 1 (877) 2- SAVE-FL (1-877-272-8335) or dial #DEP from most cell phones.
State and Federal Actions
The State Emergency Operations Center remains activated at a Level 2 or partial activation.
Governor Charlie Crist has issued three Executive Orders since April 30, 2010, declaring a state of emergency in 26 coastal counties that may see impacts.
On May 18, 2010, the Small Business Administration (SBA) opened eight offices in the Panhandle. To date, these offices have issued a total of 150 loan applications. Find an office (PDF format) at: www.dep.state.fl.us/deepwaterhorizon/files/small_business_admin.pdf.
The U.S. Environmental Protection Agency (EPA) conducted water and sediment sampling to use as a baseline for monitoring air quality data should it be affected by the oil spill. Read the reports and get updates as released at: www.epa.gov/bpspill.
Health Effects
There are no indications of any health risks due to the Deepwater Horizon incident, YET but we unfortunately expect this to change. The Department of Health and DEP are monitoring health and environmental impacts to Florida's beaches and will notice an advisory if conditions become unsafe. To read more about the possible health effects from oil, go to (PDF): www.dep.state.fl.us/deepwaterhorizon/files/faq_doh_051010.pdf.
Fishing and Seafood
NOAA extended the boundaries of the closed fishing area in the Gulf of Mexico to the state water line in Alabama and the western tip of Florida's Panhandle. The federal closure does not currently apply to any of Florida's waters, and it's called a precautionary measure.
Report oiled wildlife to the Wildlife Distress Hotline at (866) 557-1401. For the safety of the public as well as the safety of animals, trained responders should conduct rescues.
Tourism
Florida's tourism website, www.VISITFLORIDA.com, posts up-to-the-minute information on the status of any city or region in Florida. Vacationers may also view live Twitter feeds of any changes. Learn more at: www.visitflorida.com/florida_travel_advisory.
The Florida State Parks have not felt any effect, but updates on closings, if any, will be posted on their website: www.floridastateparks.org. Visitors can also get updates by calling 1 (850) 245-2157.
Tips for Homeowners
Tips for Businesses and Consumers
The Attorney General's fraud hotline is open to receive reports of fraud or price gouging by individuals or companies trying to take advantage of the Gulf oil crisis. Call the hotline at: 1 (866) 966-7226.
The Florida Agriculture and Consumer Services Commissioner gas price-gouging hotline is also operational. The toll-free hotline number is: 1 (800) HELP-FLA (1-800- 435-7352).
Coastal businesses and inland business should keep good records to help with their loss of earnings claims for damages incurred as a result of the oil spill.
Volunteer Opportunities
The Governor's Commission on Volunteerism and Community Service is encouraging Floridians and visitors to become a Coast Watch volunteer. To help or to get more information about scheduled beach cleanups and other volunteer opportunities visit: www.volunteerfloridadisaster.org.
Learn more about Florida's Response
60 Minutes In Depth Interview
Rosen & Ohr, P.A., is dedicated to helping those affected by the oil spill. If you or someone you know has been affected, let the South Florida personal injury team of Rosen & Ohr, P.A. serve you! If you have suffered a loss of income or have been physically injured due to this disaster, please call or contact our oil spill attorney today.
More information on BP Oil Spill Claims: