Hollywood School Bus Accident Lawyers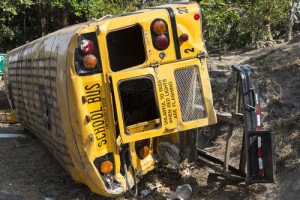 More than 450,000 school buses transport children to and from school each day in the United States. We trust those buses and their drivers to travel safely. Yet, according to NHTSA, school bus-related accidents send 17,000 children to emergency rooms each year.
Since 1965, we have represented clients who have sustained serious injuries from all types of causes, including school bus accidents. Our philosophy is to focus first on serving our clients and allow everything else to follow from there.
You are welcome to read more below about bus accidents, however, if you or a loved one are suffering from a serious injury as the result of a school bus accident, contact us today for a FREE CONSULTATION by calling (954) 981-1852 or using our online form. We are passionate and deeply committed to seeing justice served for all our clients. During our consultation we will gladly discuss how we can help protect your rights and fight for all the compensation you deserve! Let the law firm and staff of Rosen & Ohr, P.A. serve you.
Causes of School Bus Accidents
Although Florida is one of the five states that have implemented safety belt requirements for school buses, injuries continue to occur when school buses collide with other cars or when children become injured during the process of getting on and off the bus. School bus accidents can be caused by multiple factors, including:
Driver negligence
Dangerous roadways
Weather conditions
South Florida School Bus Accident Injuries
Injuries that occur as a result of a school bus accident are often severe and may require extensive therapy and treatment. Some of the more common injuries associated with school bus accidents include:
Head injuries
Burn injuries
Fractured bones
Cuts and bruising
Amputations
Internal injuries
Legal action following a school bus accident will not undo the damage suffered by the victim, but compensation can often pay for better medical treatment and rehabilitative care. The Hollywood, personal injury attorneys at Rosen & Ohr, P.A. will perform a thorough investigation of the factors contributing to the school bus accident to better understand who should be held liable. You may be able to file a claim against the bus company to recover for your damages. If you were a passenger on a bus that was involved in an accident, the bus company, whether public or private, must exercise the "highest degree of care, foresight, prudence and diligence reasonably demanded at any given time by conditions or circumstances…" This "highest degree of care" means passengers are owed a much greater level of care then merely the negligence standard typically owed in motor vehicle accidents.
Contact Rosen & Ohr, P.A. Today!
If you or a loved one has suffered a serious injury as the result of a school bus accident, you have the right to seek compensation. You deserve experienced help to deal with your medical bills and the insurance companies. Don't delay, contact a skilled and experienced South Florida school bus accident attorney by calling Rosen & Ohr, P.A. today.
With over 45 years of service in South Florida, we have successfully represented school bus accident victims in all areas of South Florida, including Hollywood, Pembroke Pines, Aventura, Hallandale, Ft. Lauderdale, North Miami Beach, Miami, Sunny Isles, Cooper City, Dania Beach, Broward County, Dade County, and Palm Beach County.
Call us at (954) 981-1852 or use our online form for a FREE CONSULTATION. Let Rosen & Ohr, P.A. serve you!