Where Can You Ride Electric Scooters?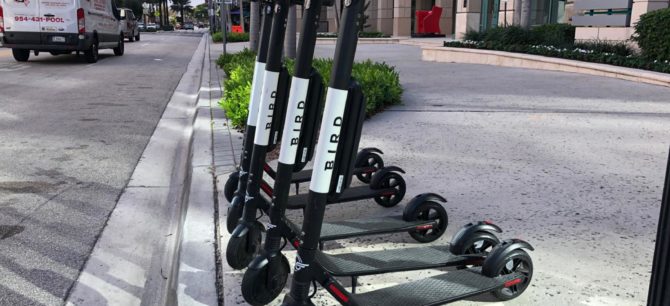 City commissioners in Hollywood, Florida, recently voted to ban electric scooters, prohibiting them from streets, roadways, and sidewalks within city limits and also prohibiting the sale, rental, and leasing of scooters, WTVJ-TV reported.
While Hollywood banned these vehicles, many other cities in Florida have been more open to electric scooters. For example, Coral Gables launched its own pilot program, Miami issued permits a planned trial program, and Tampa is also exploring the possibility of a scooter program.
Just north of Hollywood in Fort Lauderdale, WFOR-TV reported in November that approximately 1,200 scooters in Fort Lauderdale had already amassed over 40,000 rides and another 800 scooters were being delivered. One of the reasons that commissioners in Hollywood expressed concern about scooters was the increased likelihood of accidents. WPLG-TV reported a 27-year-old man was killed while using a dockless scooter when he was struck by a car.
Where Can I Ride Electric Scooters?
Dockless Scooter Share, or the Dockless Mobility Program in Fort Lauderdale, states that scooters are authorized for use only on sidewalks within the city limits. Users are prohibited from leaving Fort Lauderdale on a dockless scooter, as some other cities have not established regulations for the devices, and some, such as Hollywood, have banned them.
When you are finished riding, you should park your scooter upright using its kickstand and leave at least 4 feet clear on the sidewalk. You should not park a scooter on private property, in the street, or parking spots on streets, and you should never block fire hydrants, business entrances, wheelchair ramps, or fixtures on streets like trash cans and benches.
Which Cities Have Popular Scooter Share Services?
While Fort Lauderdale did consider banning scooters, the South Florida Sun-Sentinel reported that electric scooters could continue operating in the city. Jed Fluxman, general manager of Lime Florida, told the Broward Palm Beach New Times that over 14,000 unique riders rode almost 48,000 miles within Lime's first three weeks in Fort Lauderdale shortly after it dropped off 500 scooters, and competitors Bird and Bolt soon followed.
In February, Miami Today News reported that pilot programs with Spin and Bird were being extended in Coral Gables. On April 3, the Miami New Times reported that a six-month pilot program would allow Bird, Spin, Lime, and Bolt to deploy 50 scooters each in Brickell, Coconut Grove, downtown Miami, and Edgewater.
Electric Scooter Safety
Scooter riders were involved in 35 accidents in December alone, according to WPRG. Two notable incidents have included a woman being seriously injured inside the Kinney Tunnel and a 14-year-old being left in critical condition after a hit-and-run driver on Federal Highway struck him.
WPLG also reported in December that doctors at the emergency department at Broward Health Medical Center said they were seeing five to 10 electric scooters cases a week. One alarming headline came from the Washington Post in September when it reported that a hospital in Salt Lake City said it had seen a 161 percent increase in the number of hospital visits involving scooters.
How Can Rosen & Ohr Help Me?
Did you sustain severe injuries or was your loved one killed in a scooter accident in the greater Fort Lauderdale area, even while staying as safe as possible? Make sure that you contact Rosen & Ohr, P.A., as soon as possible.
Our law firm's founders have been awarded lifetime membership in the Multi-Million Dollar Advocates Forum, limited to less than 1 percent of all attorneys in the nation. Call or contact us online now to receive a free consultation.

Rosen & Ohr, P.A. is a personal injury law firm representing injured clients in Fort Lauderdale, Hollywood, and throughout South Florida.