2nd Place – John Di Leo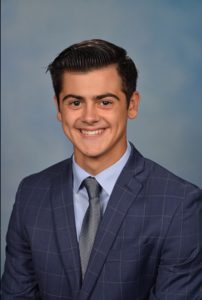 I never thought that crossing the street could change someone's life. My Aunt Patricia was walking to church a couple of months ago. It was a nice, clear day and she was just crossing the street when all of a sudden she was knocked-down by a Hummer! She was hit, dragged and bloodied. The driver initially took off, but later returned. My aunt does not remember exactly what happened. I think she blacked out for a minute because she hit her head and needed stitches. The good news, of course, is that she survived, but she was badly injured, physically and emotionally.
My Aunt Patricia broke both her legs and her dominant arm. She was hospitalized and had surgery with rods placed to hold her bones together. After a week she was sent to a rehabilitation facility. She could not get up to go to the bathroom with two broken legs. So now somebody who was always very independent, was put in a diaper and told to just lay there and move her bowels! Not only had the accident caused her tremendous pain, but it was causing her humiliation. She could not get out of bed on her own so she had to lay there and wait for someone to change her diaper. One morning she waited four hours and hoped she did not develop a bed sore! She was given pain medication, narcotics, which then caused constipation. She developed a urinary tract infection and hemorrhoids. My aunt was screaming in pain at night and often unable to sleep.
She had a lot of physical problems and then she was told Medicare would cut her off if she did not make "functional gains." When one cannot bear weight due to fractured bones, it is very difficult to progress with physical therapy. My aunt was threatened that she would be discharged if she did not advance, but how could she when she was not allowed to put pressure on her leg and still in a cast? It was awful to see what she was going through, physically and emotionally. She was distressed and often times lashed out at family members, and sometimes aids because she was so frustrated with her situation. She worried whether she would ever walk normally again. Now she had to stress about her finances too.
We learned that the driver's insurance company would cover her medical expenses, somewhat. No-Fault covers up to $50,000 in medical expenses, but the staff at the rehab facility laughed at that. She was told that $50,000 was nothing and would have been exhausted after the hospital stay. They warned her Medicare would cut her off too. What was she to do? My aunt had always enjoyed good health and an active lifestyle. She was a retired secretary who had some savings, but not a lot. She now feared that her savings would be all spent to get much needed care at the rehab facility. Apparently if you have some savings, albeit not much, you are not eligible for Medicaid. So my aunt feared she would lose all her savings or stay at the facility, paying $550 per day!
One minute of driver inattention had caused my aunt so much grief. It was a nightmare for her. She may never be the same person again. She had pain and depression and worry – how would she return to her apartment where she lived alone? How would she heal? Would she even be able to dance at the senior citizen center again? Would she ever be able to walk to Church again, alone and unassisted?
I have done what I can to help my aunt, visiting, bringing her food and clothes, and making some calls for her. She needed so much help and still does. She is a little better now, but she still has a long road to recovery. This accident has had a profound impact on her life in so many ways. For me this has certainly been an eye-opening experience. I have seen how one unfortunate event can really ruin someone's life. It seems so unfair and yet she is still lucky to be alive, as we remind her frequently.
In the fall I plan to attend Manhattan College in Riverdale. I plan to finance my education through scholarships, employment (I have two jobs) and loans. I would greatly appreciate this scholarship through the Rosen & Ohr Scholarship Program. I hope too to be an attorney one day and help other victims of accidents like my aunt.