Hallandale Motorcycle Accident Lawyer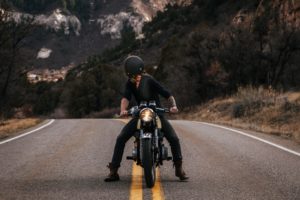 Motorcycle Accident Lawyer in Hallandale
Motorcycle riders often suffer catastrophic injuries when they are involved in a crash. This is because motorcyclists do not have any of the protections that the occupants of cars do. A collision can cause severe injuries from the impact, and in many cases, riders are hurt when they are thrown from their bike.
If a biker is hurt due to the reckless or careless actions of another driver, the vehicle's manufacturer, or another party, they could be owed compensation for the harm they've suffered. If you were hurt, or if you lost a loved one in a motorcycle accident, you shouldn't have to pay out of pocket for the medical bills, lost wages, and other costs you've incurred.
Turn to a law firm with experience helping injured bikers and their families get justice. Turn to Rosen & Ohr, P.A.
The motorcycle accident lawyers of Rosen & Ohr, P.A. in Hallandale, Florida have been representing motorcycle crash victims in Hallandale and surrounding areas of Florida for over 45 years. Call us or contact us online to take advantage of a free consultation.
Common Motorcycle Crash Injuries in Hallandale
Some of the different kinds of injuries people could suffer in a motorcycle crash include:
Spinal cord injuries
Traumatic brain injuries (TBIs)
Internal organ injuries
Joint injuries
Lacerations
Neck and back injuries
Paralysis
Fractures
Road rash
Certain injuries may ultimately prove to be fatal. When a person is killed in a motorcycle accident, their surviving family members may be entitled to file a wrongful death lawsuit against the negligent party or parties.
Common Causes of Motorcycle Accidents in Hallandale
Many motorcycle crashes involve other motor vehicles. Collisions are often caused by:
Driver fatigue in Trucks and Cars
Failure to notice an oncoming motorcycle
Not following the rules of the road
Drunk or drugged driving
Distracted driving
Failure to yield while making a left or right turn
Unsafe lane change from Trucks and Cars
Following too closely
Poor road conditions
Not all motorcycle crashes necessarily involve other vehicles. A single-vehicle crash could be caused by a defective motorcycle part that was the fault of a motorcycle manufacturer. An issue in the roadway could be the fault of a government entity. If you believe your crash was due to a negligent third party, contact our lawyers right away for help.
Determining Who Is at Fault for Motorcycle Accident in Hallandale
The insurance companies for other drivers often claim that motorcyclists were at fault for their accidents. You want to have an attorney right away for help proving that another party was actually at fault for your crash.
Under Florida Statute § 768.81(2), the fault chargeable to a plaintiff in any negligence action proportionately diminishes their economic and non-economic damages, but it will not bar recovery. This is known as pure comparative fault and means that a person can seek damages from another party, even when they were partly at fault.
The proportional diminishing of damages means that a person who is awarded $100,000 in a motorcycle accident but is found to have been 40 percent at fault would have their damages reduced by $40,000 and ultimately receive $60,000.
Pursuing Financial Compensation for Losses in a Hallandale Motorcycle Accident
Settlements are the most common resolution to many motorcycle accident cases, since the insurance company will likely want to avoid the case going to trial. A settlement will typically provide for all of the expenses a victim has incurred or will incur because of their injuries.
While settlements are common, it is important to hire a law firm that prepares cases as if they will go to trial, and has experience securing favorable verdicts for their clients.
If a case goes to trial, the victim could be awarded compensatory damages. Compensatory damages are often a combination of economic damages and non-economic damages.
Economic damages relate to specific financial expenses and losses, while non-economic damages are for harm that is not as easily quantifiable. Economic damages often include medical expenses, lost income, and property damage. Non-economic damages may include compensation for for emotional distress, loss of consortium, and pain and suffering.
A jury in Florida could also award punitive damages, but these awards are quite rare and usually reserved only for cases involving egregious misconduct. Florida Statute § 768.72(2) provides that a defendant can be held liable for punitive damages only if they are found to have engaged in intentional misconduct or gross negligence.
What to Do After a Motorcycle Accident in Hallandale
Make sure to seek medical attention if you've been in a motorcycle accident. While emergency services will usually transport victims with injuries to the hospital, you should still visit a doctor even if you don't think at first that you were seriously hurt. This is a precaution that will protect your health and will also create a medical record that could be valuable later on.
Always contact law enforcement to file a police report. When possible, get photos of the crash scene. This includes damage to your bike and the other vehicles involved, the roadway, nearby street signs or signals, and anything else that could be pertinent. Be sure to take photos from multiple angles or distances, for a greater perspective.
Witnesses should be identified immediately, and their contact information and statements should be recorded.
Finally, make sure that you do not speak to anybody about your accident — especially an insurance company — until you have legal representation. Be especially careful not to post anything about the crash on social media. Remember that the insurance companies will be looking for anything that they can use to minimize or deny your claim. Don't give them any ammunition against you.
How Can Hallandale Motorcycle Accident Lawyers at Rosen & Ohr Help Me?
Did you sustain serious injuries or was your loved one killed in a motorcycle crash in Hallandale? Make sure that you quickly contact Rosen & Ohr, P.A. for help seeking every dollar of compensation that you are entitled to. Our firm's record of success includes $35,000 recovered for a client who was originally offered only $722.
We can discuss all of your legal options as soon as you call or contact us online to set up a free consultation. Our firm handles many different personal injury cases such as: nursing home abuse, premises liability, wrongful death, slip & fall accidents, product liability and more.