Slip & Fall Attorney in Aventura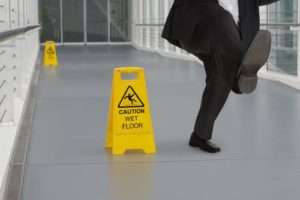 Slip and Fall Attorneys in Aventura, FL
Our Aventura personal injury attorneys practice all forms of premises liability law. Slip and fall accidents can occur on someone else's property due to the owner's negligence in maintaining or repairing dangerous areas of the property. Uneven walkways, large potholes, impermissibly steep ramps, spills on the floor, and poorly lit stairwells are all examples of conditions that can cause a trip & fall or a slip & fall. If you or a loved one has been injured because a property owner has failed to perform repairs or preventative maintenance in a timely manner, has failed to put up a sign warning of a potential danger or has failed to properly inspect his property for potentially hazardous situations or conditions, a personal injury claim against the property owner may be pursued in order to receive just compensation for the injuries you or your loved one suffered.
Slip and Fall Accidents in Aventura, Florida
Slip & fall accidents can happen anywhere and at any time and can often cause all types of complicated injuries. Airports, hotels, restaurants, grocery stores and shopping centers are just a few examples of some of the locations in which these accidents can occur. In addition, we see more and more slip and fall and trip and fall accidents at South Florida's large retail stores, such as Publix, Walmart, Lowe's, and Home Depot. Rosen & Ohr, P.A. has successfully taken on big box stores, smaller local stores, and a wide array of property owners for their negligence in failing to exercise reasonable care when it has resulted in injuries to innocent customers in their stores or guests on their property. Negligent property owners should be held accountable for the injuries that they cause. Rosen & Ohr, P.A. will carefully investigate your slip & fall accident to determine if you are entitled to seek compensation for your injuries.
A property owner's negligence can be due to their failure to:
Maintain the premises
Inspect
Repair
Warn
Have or act upon a mode of operation.
Common Causes of Slip and Fall Accidents in Aventura
A home, business or other property can have any number of unsafe conditions. Some conditions that may lead to a slip and fall injury claim are:
Slippery or wet floors
Uneven or broken sidewalks
Broken or improperly constructed stairs
Stairwells or hallways with inadequate lighting
Loose hand rails
Improperly aligned elevators
Escalators
Missing warning signs
Swimming pool safety neglect
Uneven pool decks
Buildings with entrances and exits that do not have handicapped access
Improperly designed or maintained parking lots or sidewalk ramps.
Retail stores, restaurants, resorts or hotels and other operations where the public is invited to visit are required to maintain their property in a safe manner and to inspect, repair and warn people of dangerous conditions. These establishments are responsible for making sure that adequate safety measures and protocols are in place to prevent accidents. As a client of Rosen & Ohr, P.A., you can rest assured that our slip and fall law firm will work hard to fight for your rights and make certain that you receive the most proficient and vigilant legal representation available. We are committed to helping improve the lives of our personal injury clients and their families by recovering for them the maximum amount of benefits attainable. Our primary focus is on serving our clients by providing comprehensive representation and the utmost in individualized service.
Aventura Slip and Fall Lawyers: Types of Injuries
Some injuries that can commonly result from a slip and fall accidents include but are not limited to:
Back, neck and spinal cord
Head, skull and brain
Shoulder, knees and elbow
Fractures and broken bones, such as hips, arms, ankles, tailbones
Ligament and tendon damage
Bruising, lacerations and other scarring.
Rosen & Ohr, P.A. has a proven track record of obtaining highly favorable results for our clients when it comes to even the most difficult of slip & fall cases. The firm has obtained large jury verdicts against Bloomingdales, Walmart, K-Mart, Winn-Dixie, Publix and many others.
Slip and Fall Cases: Rosen & Ohr Slip and Fall Attorneys
One of our many noteworthy slip & fall results was achieved when Ronald Rosen successfully litigated a slip & fall case against Walmart in which the jury returned a verdict in excess of $1.3 million. The verdict was the seventh largest jury verdict in Broward County that year. The case against Walmart involved a 30-year old woman who slipped and fell backwards on liquid body soap that had been spilled on the tile floor. She hit her head on shelving which caused a rotary dislocation of the top two vertebrae in her neck. Our client needed surgery but she was able to ultimately return to living a normal and productive life. Ronald established, and the jury concluded, that the store was negligent for not cleaning up the liquid body soap spill and for not keeping the store in a safe condition.
While stores do not have the duty to constantly monitor and maintain their premises, they do have a duty to keep their premises in a safe and clean manner. This includes a duty to clean up a spill or fix an unsafe condition within a reasonable time period after they know or should have known about the condition. Also, stores have an obligation to follow their own maintenance protocols for cleaning a store, should they have one in place. Some other conditions that commonly occur and can lead to slip & fall injuries are:
Stores improperly packing inventory on shelving which can cause a spill.
An employee or store policy can create an unsafe condition by performing or failing to perform a certain task.
A store not properly cleaning up after another patron has spilled a slippery substance on the floor.
A store not properly warning its patrons after someone has spilled a slippery substance on the floor.
A store not properly warning its patrons after cleaning their floors.
Working with a competent and experienced slip and fall injury law firm that is thoroughly familiar with the mechanics of slip & fall accidents and how they correlate to personal injury claims and the laws in Florida is an absolute must in order you to be duly compensated for your injuries. At Rosen & Ohr, P.A., if we cannot secure a just settlement for you out of court, we will formulate a hard-hitting strategy for trial and aggressively litigate your case to ensure that the responsible party is held accountable for their negligence. Our slip & fall law firm has successfully represented many clients who have been injured as a result of property owners failing to keep their premises safe. We have helped clients obtain money for medical care, lost wages and other damages — and we can help you.
Call our Slip and Fall Attorney in Aventura Now
If you or a loved one has been injured as the result of a slip and fall injury, it is essential that you take the first step towards being adequately protected and properly compensated. Consult with the experienced premises liability law firm of Rosen & Ohr, P.A. before you speak to any insurance company representatives or investigators hired by the defendant. Insurance carriers will make every attempt possible to minimize their costs and deny you the compensation to which you are lawfully entitled. They will unquestionably, at some point during your claim, offer an unreasonably low settlement, one that represents their best interests and not yours.
Hiring a knowledgeable and experienced slip & fall attorney will allow you to focus on healing and getting your life back. While you heal and look toward a brighter future, the professionals at Rosen & Ohr, P.A. will handle the legal and technical aspects of your case. Our South Florida slip & fall law firm has been successfully litigating personal injury cases for over 45 years; let us serve you and get you the compensation you deserve!
If you or a loved one is injured, call Rosen & Ohr, P.A. today at (954) 981-1852 or contact us online for a free consultation. We provide a full range of personal injury legal services to clients in all areas of South Florida, including, but not limited to Aventura, Ft. Lauderdale, Hollywood, Pembroke Pines, Miramar, Aventura, Hallandale, North Miami Beach, Miami, Sunny Isles, Cooper City, Dania Beach, Broward County, Dade County, and Palm Beach County.
Our Aventura, FL Law Firm & Practice Areas:
Whether you come to Rosen & Ohr, P.A. after a car accident, workplace accident, medical malpractice, or any other personal injury matter, you can rely on our firm for effective representation at the highest level of professionalism. We are a focused boutique law firm and our Aventura attorneys work as a team to aggressively pursue our clients' causes in every case we take on. Here are some practice areas we can help you with:
Motorcycle Accident Lawyer
Medical Malpractice Lawyer
Wrongful Death Attorneys
Warehouse Accidents or Big Box Store Accidents
Slip and Fall Accident Lawyers
See All Practice Areas & Types of Injuries